Over the summer I found a great post from Mrs. Moore on her Techie Kids blog showing 2 classes playing Family Feud against each other on Skype. I thought it was a fantastic idea and I knew my students would love.   It would also allow me to practice my newly learned knowledge of making forms on Google Docs. I put out a Tweet asking if someone wanted to try it and was answered by a technology teacher from the nearby Our Lady Help of Christians School. We developed the questions together. Some examples were name your favorite subject, favorite beach, favorite storybook character, etc. During the month of September, we had each class answer our survey and then I tallied the results. Yesterday, our 2 third grade classes participated in the Skype Family Feud Challenge.
We began each round with a Face Off question and students rang a bell if they had the correct answer.  The student who gave the highest answer won the ability for his/her team to play that round.  I gave several students jobs while we were playing.
Helena took photos while Nathan handled the video.
Liam and Emmet did a nice job of keeping score.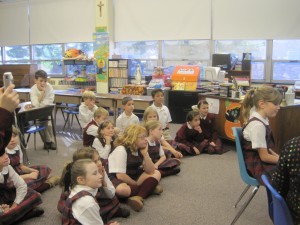 The rest of the class watched and listened closely.
Our Lady Help of Christians was winning for most of the game but St. Ignatius won the last round and pulled off a win!  We are planning a rematch sometime next month with the remaining questions that were not used.