For the past 2 months, we have been taking part in the Global Read Aloud.  We read the book, Marty McGuire by Kate Messner and used Edmodo to have discussions about each chapter with 2 other classrooms who were also reading it.  It was a great experience!  We even had our question answered by author Kate Messner in her video Q and A.
Last week we Skyped with one of those classes, Mrs. Gosfield's Grade 3/4 from Duchess, Canada.  Each student came forward to talk to the other class.  Some shared their favorite parts of the book.  Some of them included when Marty fell in the mud trying to catch the frog, when Veronica Grace ran off screaming because she saw the live frog, when Sparky the raccoon threw nuts at mom's head, and when Marty kissed the live frog!!  The other students shared information about our country and our local area.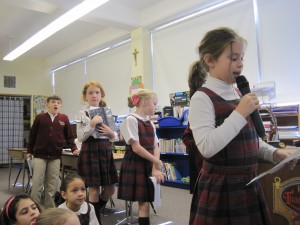 Their school has over 400 students and it goes from Grades K-12 (compared to our school having 300 from K-8).  The town of Duchess has only 992 people and they live in a rural area so a lot of them live on farms.  We told them that our town of Yardley has about 2,500 people and we live in the suburbs.  We saw a photo of their flag and they told us it had a maple leaf on it which is the symbol of their country.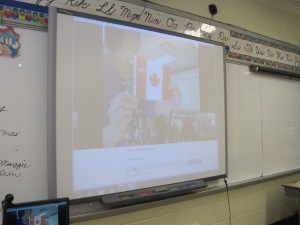 They have a Prime Minster instead of a President and his name is Stephen Harper.  We also enjoyed learning a little bit about Queen Elizabeth.  Her favorite color is blue!  Their money is much more colorful than ours and it is made of plastic.
We had a wonderful time meeting our new friends face to face and we hope to work with them on other projects later on in the year!