I've been using the website Quizlet for several years now to practice vocabulary with my students.  It's great because once I create the cards, the children can search for me and play games with them at home or at school through the app or website.  Today we had the awesome opportunity to try the Beta version of the new Quizlet Live game!  I used this team based game to review Reading vocabulary words with my students.  The game was based on a set of game cards I had in my Quizlet account.  Once I launched the game via my Quizlet account, the children went to Quizlet.live on their iPads to log in.  Students can use phones, computers or iPads to play.  They put in my game code and their name.  Then the site automatically assigned them to a team.
Teams where given cute animal names like ostrich, koala, and panda and a photo of that animal showed up on their screen.  The teams were also shown on my Smartboard.  When the students were sitting with their teammates, I started the game.
Each round asked 12 questions.  The same question showed up on each student's device in a team, but the answer choices for each student were different.  The children had to read all of the answer choices between them and discuss which was correct before they submitted.
While they were playing on their individual devices, my Smartboard was showing which team was in the lead.  The first team to get all of their answers correct won the game.  If a team answered a question wrong, however, they lost ALL of their points!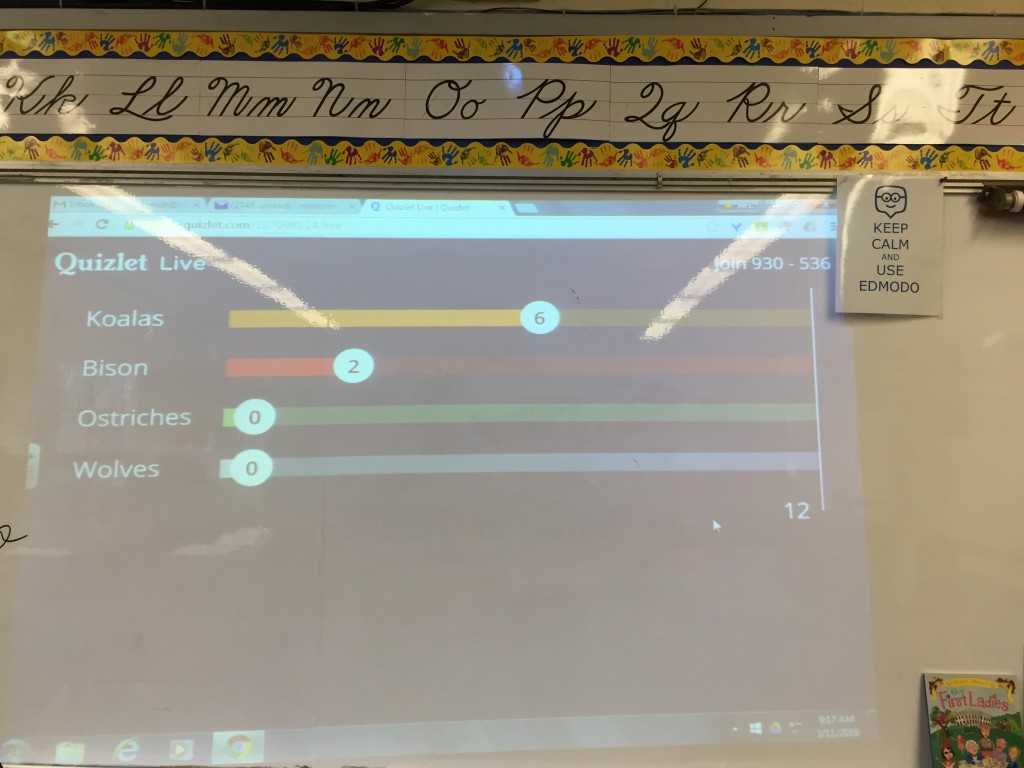 As soon as one team answered all 12 questions correctly, the game shut down for everyone and they were declared the winner.  At the end of the game, teachers can see results that show what terms the students got right and which ones they struggled with.
My 3rd graders just adored this game and asked to play it over several times in a row!  It was a super fun way for them to work together to practice vocabulary words.  As I mentioned, this game is in Beta testing right now.  Only those who have a paid Teacher account on Quizlet have access.  Teachers who don't have a paid account can go on their waiting list or get access by being invited by another teacher.  Special thanks to my daughter's 12th grade teacher, Sharon Hartranft, for inviting me to have access and to my daughter for telling me how much the 12th graders enjoyed this new game.  I think Quizlet Live might give Kahoot a run for it's money with this fun new game!
Watch the video below to see the game in action in my classroom.  Click HERE to get more information and instruction from the Quizlet site.
Playing Quizlet Live from Tina Schmidt on Vimeo.