Now that the new year has started, we are back into the Skyping groove! This time around we are trying a new kind of Mystery Skype. The children only ask questions that can be answered with a Yes or a No to guess the location of the other classroom. Here are some examples:
Are you east of the Mississippi River?
Do you border an ocean?
Are you in the western part of the United States?
This kind of Skype gets the kids thinking and keeps them on their toes!  They all need to work together so we can be the first to figure out the location.  Each child has a different job to do during the call.
1. Asking the questions to help us guess
2. Answering the questions about our state
3. Mappers used dry erase maps to help us narrow down the location 
4. We used the netbooks to do research about populations and any other questions we had to look up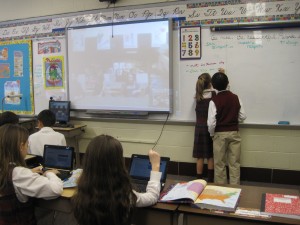 5. Some students were looking at physical maps in our textbook and at an atlas.
6. Scribes wrote down all of the clues we had gathered so far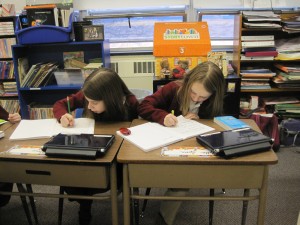 7. Runners relayed questions from the different groups to the students asking.
 For today's Skype, we used the netbooks and  a website called "Today's Meet" which allowed the children to message the questions to the students asking.
We still like to share famous people, famous places, sports and other spontaneous questions during each Skype so we can learn more about that state and practice our listening and speaking skills too.